Crossbites occur when the upper and lower jaws are both misaligned, causing one or more upper teeth to bite on the inside of the lower teeth. This can happen in any part of the mouth, whether it is the front or sides.
What Causes Crossbite?
A crossbite can be caused by unusual jaw development, active thumb or finger sucking habits, airway constrictions, heredity or crowding.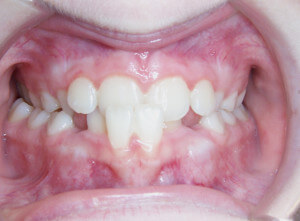 What kinds of problems does it cause?
Impedes speech development
Interferes with the eruption of permanent teeth
Causes excessive wear to the teeth
Improper jaw function and positioning
TMJ discomfort
Treatment for Crossbite
Are you searching for treatment options for you or your child's crossbite? At Zaytoun Orthodontics, we specialize in areas of treatment that include:
Our talented orthodontists will help you find the most appropriate treatment plan based on your current situation. To get started, contact one of our smile counselors and set up your free consultation with us today.
Crossbites can be debilitating, but the experts at Zaytoun Orthodontics are experienced and well-equipped to treat even severe crossbite.