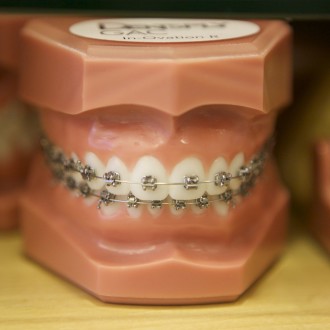 The In-Ovation system is flexible because it uses three different types of brackets that are both comfortable and attractive including:
In-Ovation R – A lower-profile bracket that doesn't use elastic or metal ties, so you'll enjoy less irritation and plaque build-up.
In-Ovation C – This translucent ceramic bracket offers fast, comfortable treatment with high aesthetics.
In-Ovation L MTM – These self-ligating "quick clips" are completely invisible and work within a few months, providing an alternative to tray aligners for patients requiring 6mm of movement or less.
Benefits of In-Ovation® Braces
Faster results
Shorter appointments
Fewer office visits
Greater comfort
Improved facial proportion and appearance
We're proud to offer our patients the In-Ovation® Braces for a faster-working and more comfortable alternative to traditional braces. No dental referrals are required, so contact us today!
How do you know if In-Ovation Braces are right for you? Read below to see if your current condition could benefit from this innovative system.
Conditions We Treat With In-Ovation Braces:
Crowded Teeth
Protruding Teeth
Overbite
Crossbite
Underbite
Openbite
Spaced Teeth
Patients We Treat With In-Ovation Braces:
"My expectations at Zaytoun Orthodontics were met exceedingly well. The staff was very friendly and here were no surprises or problems with the treatment. The treatment was well worth the expense. Sarah had a very bad bite and gap, but she really looks great now! The staff is great, friendly, and professional. They know how to make teenagers cooperate and comfortable. I would say the expertise is unbeatable, and the outcome is what and how it is discussed in the initial appointment planning."– Sarah R. – Raleigh, NC
"Wonderful experience. The Doctors and staff are wonderful. I am very glad I chose this office and they wear my favor color "purple" I love it." - Michelle W.
"I highly recommend Zaytoun Orthodontics! I was under the care of Dr. Henry as an adult with braces and the practice as a whole is fantastic. My daughter is now under his care for treatment. Everyone was extremely knowledgeable and genuinely cared about my treatment. Zaytoun Orthodontics was also highly recommended by my primary dentist!" - Candace S.