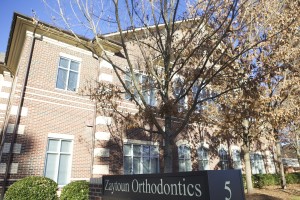 Self-ligating braces are made from the same material as traditional braces, and come in traditional metal, ceramic or clear brackets.
They come in two types: passive and active. Passive brackets are often used at the beginning of the treatment to help teeth start moving into position, because they use a smaller archwire that creates less friction, allowing teeth to move more freely. Active brackets use a thicker archwire that moves teeth more aggressively, but also offers more control for consistent and strong results.
Benefits of Self-Ligating Braces
Ideal for adults because of the appearance
Fewer appointments
Less pressure is being placed on the tooth
And more!
Contact Zaytoun Orthodontics today and see if self-ligating braces are the right solution for your unique needs!
If you're wondering if self-ligating braces may be the right choice for you, read more information below and contact us with any questions!
Conditions We Treat With Appliances:
Crowded Teeth
Protruding Teeth
Overbite
Crossbite
Underbite
Openbite
Spaced Teeth
And more
Patients We Treat With Appliances:
"Zaytoun Orthodontics is the best place around! They have treated three of my four children and the results were terrific in each case. From the moment you walk up the stairs, everyone and everything is first rate. I believe that Dr. Henry, Sr. started a practice with such integrity and skill that the next generation had a very strong foundation to build upon. Our family loves Zaytoun Orthodontics, and we are grateful for each and everyone who works there. Keep up the good work!"– Kate V. – Cary, NC
"Zaytoun Orthodontics provided excellent and personable care. The treatment investment was worth the expense because I left with straight and healthy teeth. The staff is always pleasant and knowledgable. Dr. Zaytoun is very thorough and personable and I felt like we were not being just passed along as another patient because he takes time to talk and ask personal questions to both parents and children."– Allen B. – Cary, NC
"I had a very positive and welcoming experience. All of the staff we're competent and made me aware of all the procedures envolved in my care which really put me at ease. I would recommend this office to anyone in need for a perfect smile." - Keyonna W.