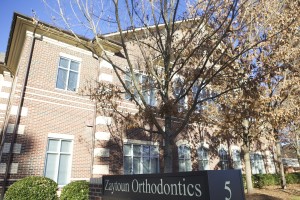 Self-ligating braces are made from the same material as traditional braces, and come in traditional metal, ceramic or clear brackets.
They come in two types: passive and active. Passive brackets are often used at the beginning of the treatment to help teeth start moving into position, because they use a smaller archwire that creates less friction, allowing teeth to move more freely. Active brackets use a thicker archwire that moves teeth more aggressively, but also offers more control for consistent and strong results.
Benefits of Self-Ligating Braces
Ideal for adults because of the appearance
Fewer appointments
Less pressure is being placed on the tooth
And more!
Contact Zaytoun Orthodontics today and see if self-ligating braces are the right solution for your unique needs!
If you're wondering if self-ligating braces may be the right choice for you, read more information below and contact us with any questions!
Conditions We Treat With Appliances:
Crowded Teeth
Protruding Teeth
Overbite
Crossbite
Underbite
Openbite
Spaced Teeth
And more
Patients We Treat With Appliances:
Teens
Young Adults
Adults