The relationships we form with patients every day are what make our day so fun and rewarding. We love getting to know our patients and working with them to achieve their beautiful Zaytoun Signature Smile!  Here's a sneak peek into our lives and why we love being a part of the Zaytoun Orthodontics Team.
Bryna
Patient Liaison
Bryna joined the professional team at Zaytoun Orthodontics in 2000. As the lead Appointment Coordinator, she handles all aspects of scheduling, office correspondence, and customer service. Bryna's smile is often the first thing patients see when they enter the office, and when she is not at the front desk, patients and parents alike ask for her by name.
Bryna is a model administrative professional. Prior to work for Zaytoun Orthodontics, she invested seven years as a scheduling manager for a service company arranging appointments for multiple individual construction professionals and handling the front desk. Her efficiency and organizational prowess are to be admired and keep the office running smoothly.
Hailing from Hazelton, Pennsylvania where she was born and raised, Bryna's family relocated to the Raleigh area over 25 years ago. She is especially proud of her son Scott, a recent NC State graduate, and her daughter Summer, an accomplished gymnast and honor student. In her free time, Bryna appreciates the simple joys in life like reading, gardening, and relaxing by the pool with her wonderful husband Matt and her two four-legged children, Lilo and Stitch.
Tetyana
Treatment Supervisor
Tetyana came to Zaytoun Orthodontics in 2003 to begin her career in the field of orthodontics. As an energetic leader of our clinical team, she is dedicated to quality patient care. Tetyana has a strong work ethic and her great sense of humor and attention to detail make her a patient favorite. She truly enjoys being a part of such a dedicated and caring team of doctors and staff.
Originally from Ukraine, Tetyana has lived in Raleigh for over sixteen years. Tetyana's bicultural background allows her to connect with patients who are also diverse in culture. She has a degree in computer engineering, but fell in love with Zaytoun Orthodontics and decided to make it her career.
Outside of work, Tetyana is a family girl with two charismatic kids and a fantastic husband she adores so much. They love to spend time together traveling and getting involved in local activities and organizations. In her free time, Tetyana also enjoys reading and staying fit.
Chris
Comptroller
I've been with Zaytoun Orthodontics since 1998, and it's a privilege to work with this fantastic team! Formally a Dental Technician in the Navy, I know the effect a person's smile can have on one's self-esteem. Our doctors are masters of their profession and I love to look at the before and after photos of our patients. Their beautiful smile is something they wear and can be proud of for the rest of their lives! Seeing the transformations never ceases to amaze me.
I am originally from Hollidaysburg, Pennsylvania but have lived many places before settling down in Raleigh with my husband. I am a news talk radio and a Pinterest junkie.
I enjoy cross-fit training, gardening, cooking, canning, four-wheeling, and spending time with my two dogs.
Kim
Onsite Lab Manager
I've been working in the dental field since 1976 and at Zaytoun Orthodontics since 1985. Over the years, I feel like I've really created a second home for myself here. Working in the lab, I help to create many of the appliances that improve and maintain our patients' smiles. I love Dr. Henry, Sr.'s stories and analogies, Dr. Mary Paula's funky shoes and glasses, and Dr. Henry, Jr.'s laugh. By far, the best part of my job is working on the details and seeing the finished smiles.
I am originally from Florida but have lived in Raleigh for 31 years. I love spending time with my family, including my two beautiful grandchildren and my dog, Dylan. In my spare time, I enjoy painting; some of my paintings are on view at Sunflower Gallery in Wake Forest. One thing you probably don't know about me is that I was an extra in the movie Patch Adams.
Alicia
Dental Assistant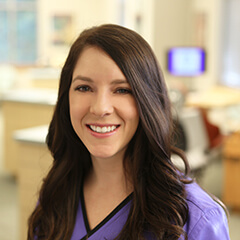 Alicia, a native of Concord, NC has been working in the field of dentistry since 2008. She moved to the triangle in 2011 and has brought her 10 years of chair side experience to Zaytoun in early 2017. What Alicia likes most about working at Zaytoun Orthodontics is the family vibe that she has with the doctors as well as her colleagues. She is continually amazed at the generations of families that come to Zaytoun to get their orthodontic treatment. In her free time, she enjoys spending time with her husband, Brandon and her daughter Baylor. She also loves to get out to Lake Gaston and watch baseball or football when not helping transform new smiles.
Call Zaytoun Orthodontics for a Beautiful, Straight Smile
To get started receiving orthodontic treatment from our orthodontists and staff members, contact us today. We will be happy to give you more information and get the process started by setting up your complimentary consultation in Raleigh, Garner or Cary!