The Zaytoun Orthodontics Story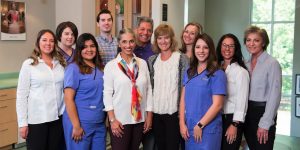 Since 1959, Zaytoun Orthodontics has been perfecting smiles and providing a heart of service across North Carolina's Triangle region which has positively affected multiple generations of families in the communities it serves.
Dr. Henry Zaytoun, Sr. founded Zaytoun Orthodontics in 1959 with the goal of delivering quality orthodontic treatment in a family-oriented environment which still holds true to this day.  His passion for orthodontics trickled down to his son, Henry Jr., and daughter, Mary Paula, both of whom now carry on the Zaytoun legacy.
Our three doctors hold the same philosophies, principles, and beliefs of how our patients should be treated from the initial consultation to the day treatment has concluded. That means every patient who walks through our doors in Raleigh, Cary, and Garner, receives the highest quality in treatment and care, regardless of age or condition.
What Makes Zaytoun Orthodontics Different?
EXPERIENCE
With over 125 years of combined experience and over 38,000 patients successfully treated, Zaytoun Orthodontics' dedication and expertise are evident through it 's a long-standing tradition of providing best-in-quality care and unparalleled orthodontics results for patients in Garner, Raleigh, and Cary.
Our lifelong dedication and extensive experience enable us to present creative options and solutions that may not be offered by other orthodontists in Raleigh, Cary, or Garner, saving you time, money and stress.
APPROACH
At Zaytoun Orthodontics in Raleigh, Cary, and Garner, we pride ourselves in offering an approach that is perfect for each patient. We strive to treat each patient holistically, pairing an innovative philosophy with strong personal patient relationships. We're not in this business for quick fixes; We want life-lasting changes to both the form and function of a patient's' mouth.
Children and adults present their own unique sets of concerns and challenges, and we take a specialized rather than a generalized approach to treating patients of all ages.
The team at Zaytoun Orthodontics monitors the child's facial growth, development & maturation. From preemptive screening for young children to follow-up care for adults, we can offer tailored treatment plans that are both age and developmentally appropriate. If you are looking for an orthodontist in Raleigh, Cary, or Garner, who will create the perfect treatment plan for you and your family, Zaytoun Orthodontics is the orthodontist for you.
INNOVATION
Zaytoun Orthodontics in Garner, Cary, and Raleigh stays at the forefront of the many orthodontic innovations within the industry. Our staff receives top-of-the-line training and uses the most cutting-edge technology & orthodontic equipment to provide the quality of care our patients deserve.
The best equipment, though, can only do so much. We're constantly dreaming up new methods and ways to use the technology at our disposal. Zaytoun views orthodontics as an art form, ever-evolving and improving, and we stay ahead of the curve to deliver beautiful results that stand the test of time. Creating beautiful smiles that are perfect for our patients is the #1 goal, making Zaytoun Orthodontics an obvious choice for any of your orthodontic needs in Garner, Cary, or Raleigh.
AFFORDABLE
We seek to treat every patient possible, regardless of their financial means, and we go the extra mile to offer a variety of flexible payment options.  
Our payment plan options include:
Zero-interest in-house financing

Zero down payment third-party financing

Care Credit

Extended payment terms.  
Our staff works hard to ensure our patients are able to collect their full insurance benefits. We accept and file insurance for many carriers, including Ameritas, Aetna, Cigna, Delta Dental, Metlife, United Health, United Concordia, and many more.