Treating Crowded Teeth
At Zaytoun Orthodontics, we have decades of experience turning crowded teeth into beautiful smiles for patients of all ages in the Raleigh, Cary, and Garner areas.
What causes crowded teeth?
Genetics within families often lead to crowded teeth. This condition is typically caused by a size difference between the upper and lower jaws or between the jaw and teeth. Other causes of crowding we have seen at Zaytoun Orthodontics include:
Thumb sucking or tongue thrusting as a child
Presence of extra teeth, missing teeth, impacted teeth, or teeth that are abnormally shaped
Dental fillings, crowns, dental appliances, retainers, or braces that do not fit correctly or were installed incorrectly
Misalignment of jaw fractures after injury or surgery
Luckily crowded teeth is an issue that can be fixed with orthodontic care. If you are looking for an orthodontist in Raleigh, Cary, or Garner, let our doctors at Zaytoun Orthodontics put together the perfect treatment plan for you.
What can crowded teeth cause?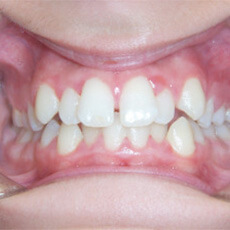 Crowded teeth can cause other dental health issues including:
Plaque accumulation
Tooth decay over time
Impacted teeth
Increased chances of gum disease and bone loss
This can lead to more dental appointments and unnecessary tooth pain. Don't let crowded teeth affect your oral health. Our orthodontists in Cary, Raleigh, and Garner can help you understand the best way to treat your crowded teeth.
How Do You Correct Crowded Teeth?
The doctors at Zaytoun Orthodontics in Garner, Cary, and Raleigh use a variety of orthodontic appliances and types of braces to correct crowded teeth. Our effective treatment options include:
If you think you need braces to treat your crowded teeth, schedule an appointment with one of our orthodontist in Raleigh, Cary, or Garner today!